You probably haven't been thinking about Valentine's Day much, BUT YOU SHOULD.
Old married men like me (but not ME, specifically, as I HAVE NOT HAD A JOB in almost 20 years…plus I am COOL) will be at work and overhear "Johnny served me breakfast in bed and LOOK WHAT WAS IN MY OMELETTE!!!!!" and there she is, the 20-something with the new rock on the finger. That same day, that same twenty-something will have flowers delivered from Johnny, and our old married guy begins to wonder if something is up….and all day long, notices others at the office are getting flowers delivered, talking of dinner plans, of teddies and bustiers….and then our old married guy GETS IT.
VALENTINE'S DAY! Oh, right.
SO, on the way home he stops at Target…where (really!) he can buy a bunch of carnations, not too wilted yet, a funny Hello Kitty Valentine's card, and a heart box of chocolates…that taste like wax…except NOBODY has ever eaten those things.
WHAT A LOSER. He's not gettin' ANY ACTION tonight…
DON'T BE THAT guy or gal, be smart and 2 weeks before Valentine's
SHOP WITH ME at my etsy shoppe! (click here
) New items, like these wee dessert plates! Good for that cupcake, that scone, or those FINE chocolate dipped strawberries**** you got up early to make (the man who makes his sweetie chocolate dipped strawberries will see a lot of flying lingerie around the house, believe me :)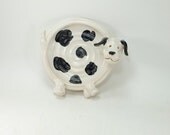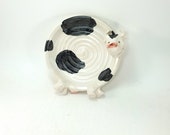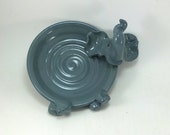 ****(make your own chocolate dipped strawberries: look it up, or just do this: get some strawberries. Melt some choco chips in a bowl in the 'wave. Dip strawberries in chocolate, set onto plate. (use wax paper if you want to be tidy and efficient) Cool in fridge, serve!)