You're like "WTF is TEFF FLOUR? AND GOOD GOLLY, lookit Gary's stache'!"
More on that shortly.
You know I started Teapot Tuesday last month. It is rolling! I should try to get links to other artists participating and somehow link us all or something... gotta work on that.
SO, my entry is this rather amusing teapot featuring SURPRISE! Me. Me in the 90s.
Or Tom Selleck as Magnum PI in the 70s!
My wife is very polite. I wore that thing for ten years. One day she comes home from work and gets the first stache'-free kiss in a decade and merely smiles with glee :)
The teapot and cup can be YOURS forever, c
lick here to go to my online etsy gallery and buy i
t!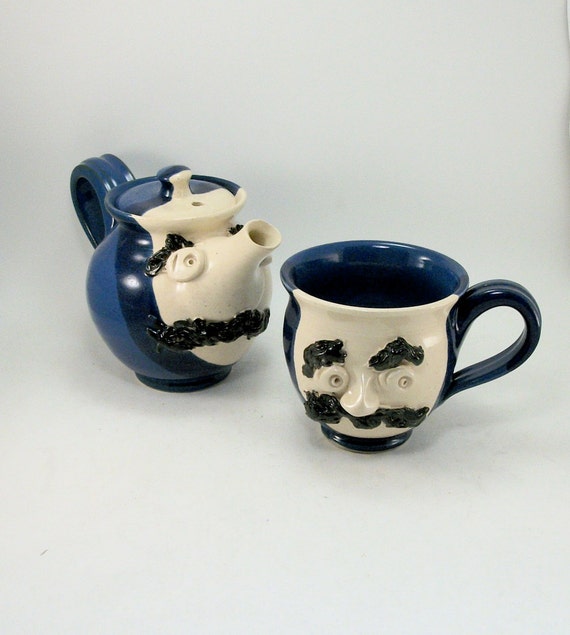 So, in other news, I got a box of teff flour in the mail. Why order it? Ithaca is OUT! Out of certified gluten-free teff flour. It is an interesting item. You will recall my introduction to it last month
(click to see it!)
, I made a new recipe for gluten-free chocolate bread, made with teff flour and tahini, etc.
The back of the bag had this quick and easy recipe for P
EANUT BUTTER cookies (click
)... which I had to make right away, and they are DELISH. I added chocolate, of course!
Teff flour is an interesting whole grain flour from Ethiopia, one of the healthiest on earth, really! (click
) It is loaded with protein and iron and even calcium. It has a nice flavor, but as with most gluten-free flours it is a bit more grainy than you are used to. That is why white flour is so popular in the modern world: light and fluffy BUT nutritionally worthless, about as good for you as a bottle of sugar. Teff is tasty and sooooo good for you, why wouldn't you love cookies with it? The bonus with this one is that it is sweetened with maple syrup...luckily our buddies Kate and Jim gave us some last month :)
Have an awesome Tuesday!