I was out walking with Nook in downtown Ithaca yesterday...he has nothing to do with piggies, but isn't he handsome and aren't the falls terrific????
I invented a snack yesterday. Some weeks ago I saw a picture where somebody had cored an apple and sliced it to look like a bagel and then smeared peanut butter on there. BRILLIANT. I have liked peanut butter on apple from time to time, but apple quarters in a wedge shape always seem to drip peanut butter off the side, right? Messy! Cutting an apple like a bagel = BRILLIANT.
SO, as you know all too well it was my birthday a month ago. I went to the kitchen store and got a kickass apple corer, very high tech (and SWISS! I think) and gave it to the wife to give to ME so I could make little apple-bagel snacks.
Yesterday, I took it to eleven, quite piggy of me: what if the hole was filled with a raspberry? BRILLIANT! I mean, raspberry jam tastes great on peanut butter, right? Naturally this beautiful little pig out would taste even better...
Speaking of little piggies, you may need a small wall piece with pigs, maybe even for MOTHER'S DAY! A pig in a blanket! I love pigs and I love jokes, I love mother and child or Madonna and child art, and this is a little of all of those, for
sale now at my etsy gallery!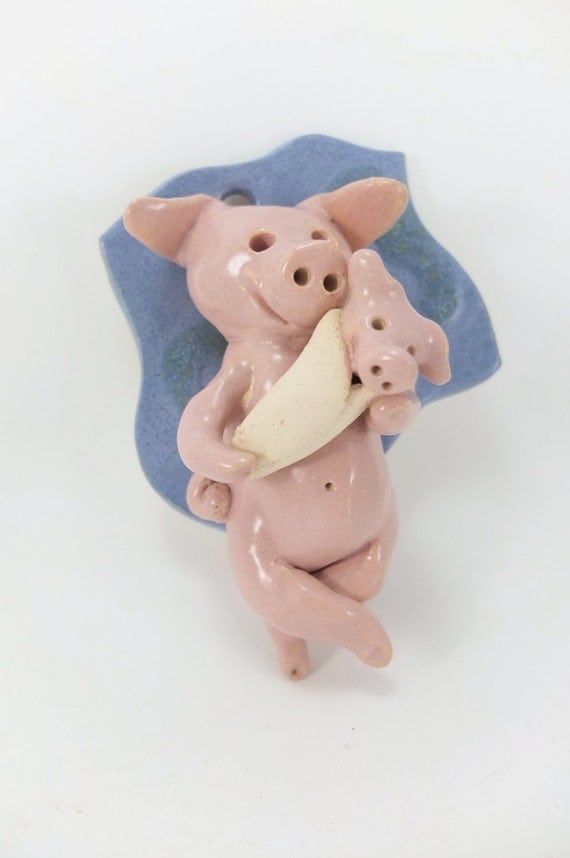 (oops, later, I forgot to add this!)
The Pig
It was the first of May
A lovely warm spring day
I was strolling down the street in drunken pride,
But my knees were all a-flutter,
And I landed in the gutter
And a pig came up and lay down by my side.

Yes, I lay there in the gutter
Thinking thoughts I could not utter
When a lady passing by did softly say
'You can tell a man who boozes
By the company he chooses' — And the pig got up and slowly walked away.